Wenn die Welt in zwei Wochen vermeintlich untergeht, man aber dennoch den Mörder seines Vaters finden möchte, ist Beeilung abgesagt.

Genau dieses Szenario erlebt eine junge Frau in der neuen Mini-Serie "Two Weeks to Live", die am 04.12. ihre exklusive Österreich-Premiere beim Pay-TV-Anbieter Sky feiert.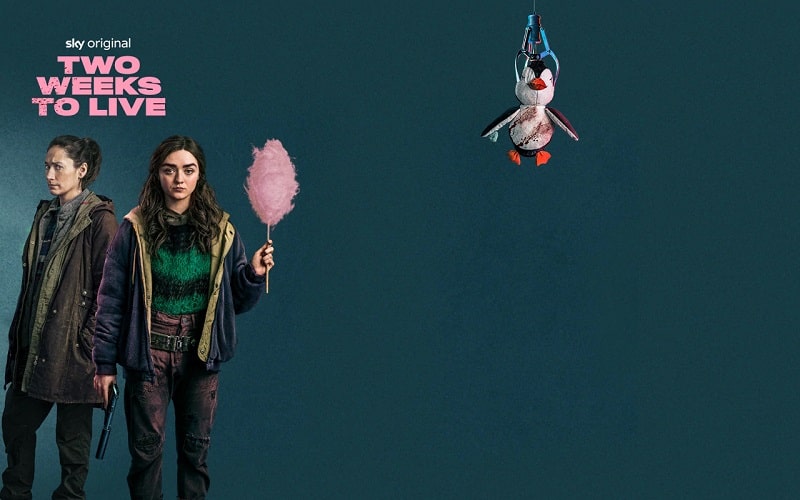 Two Weeks to Live: Inhaltsangabe & Details
"Two Weeks to Live" ist eine britische Eigenproduktion von Sky One, in der die aus der Serie "Game of Thrones" bekannte Schauspielerin Maisie Williams die Hauptrolle übernimmt.

Erzählt wird dem Zuschauer die Geschichte der jungen Kim, deren Mutter sie im ländlichen Teil Schottlands aufgezogen hat.

Das Problem dabei: In ihrer Kindheit und Jugend wurde Kim komplett von der Außenwelt isoliert, sodass sie keinerlei Ahnung hat, was in der großen weiten Welt eigentlich vor sich geht.

Als sie eines Tages endlich ihre Umgebung erkunden kann, trifft sie in einer Bar auf die beiden Teenager Nicky und Jay, die ihr auf ihrem Handy ein Fun-Video zeigen.

Darin zu sehen: Der baldige Untergang der Welt in zwei Wochen.

Kim nimmt das Video jedoch ernst und ist fortan in der Annahme, dass ihr nur noch zwei Wochen zum Leben bleiben.

Diese möchte die junge Frau natürlich bestmöglich nutzen: Sie begibt sich auf die Suche nach dem Mörder ihres Vaters, damit dieser zur Rechenschaft gezogen werden kann.
"Two Weeks to Live" ist keine Serie, bei der man mit zahlreichen Staffeln und Episoden rechnen sollte, denn es handelt sich um eine Mini-Serie mit lediglich sechs Episoden.

Die ideale Schlagzahl für einen vorweihnachtlichen Serien-Marathon, ehe man sich endlich wieder auf die beliebten Weihnachtsklassiker konzentrieren kann.
Two Weeks to Live auf Sky Atlantic & auf Abruf
Wenn du dir die neue Serie "Two Weeks to Live" anschauen möchtest, kannst du das ab dem 04.12. im Programm von Sky tun, denn am genannten Datum gibt es ab 20:15 Uhr direkt drei Episoden am Stück auf dem Sender Sky Atlantic HD.

Die restlichen Episoden sind exakt eine Woche später, also am 11.12. zu sehen – ebenfalls ab 20:15 Uhr.
Alternativ kannst du dir alle Episoden von "Two Weeks to Live" natürlich auch jederzeit auf Abruf anschauen: Wahlweise per Sky on Demand oder gänzlich ohne Sky Abo beim Streamingdienst Sky X.
Trailer zu "Two Weeks to Live"
Das könnte Dich auch interessieren: